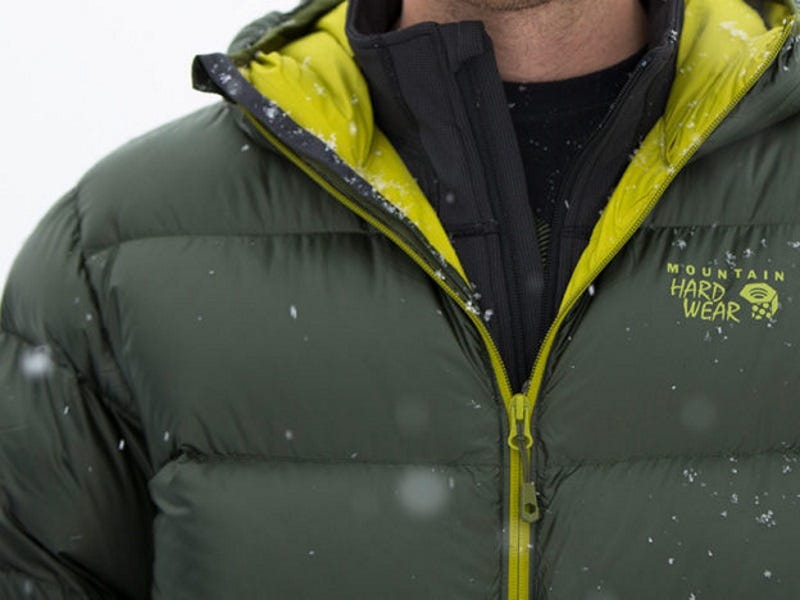 Posted:
February 06, 2016
There's many ways to patch a coat. You can go with the "farm-store" fix and use Duct tape or Gorilla tape to fix a down jacket...
Or you can follow the recommendations from Mountain Hardwear and use Tenacious Tape--this is a time tested and a sure-fire way to get a quick fix. But let's get a little deeper with it-- the video below offers a step by step fix for using Tenacious Tape.
Check out our Gorilla section here or you can use the Mountain Hardwear prescription here.
Repairing Pinhole/Puncture in a Down Jacket
There is one hole we'd like to talk specifically about, and that's the pinhole or puncture hole. These are normally much smaller, and only have a few fibers of down or fill material protruding. When it comes to a rip like this, a small dot of Zap-a-Gap, an integral part of the fly fisherman's accouterments, or any other type of super glue will work wonders. This may leave a discolored patch on your jacket, so keep that in mind.
We've got clear Tenacious Tape and also black Tenacious Tape options online here. 
What's great about Tenacious Tape? It's an on the fly down jacket repair option you can use anywhere, anytime to seal leaks, rips and tears. It's a must have for your gear bag, and will keep your pinholes... pinholes: it will stop them from ripping or tearing into a larger gash. Plus, when you're ready for a more permanent solution, there is no left over "sticky residue" you can expect with other tape alternatives.
Didn't fix the pinhole and lost all your feathers? Never fear, find more jackets here:  Men's Jackets @ North 40 Outfitters  and for the ladies... Women's @ North 40 Outfitters
How to Repair a Baffle Tear in a Down Jacket
First things first: this level of repair is DIFFICULT. You need a sewing machine, a decent knowledge of said sewing machine and an idea of how to work with down products themselves.
Side-note: If you have a rip in your Patagonia down jackets or vests, they will repair the original damage for the SAME PRICE if you try to repair it yourself. What's that mean? Well, besides that Patagonia is awesome, that means, even though this repair may seem difficult, you can't lose for trying. See if you can get through it yourself, and if you can't, just send it in for repairs with no penalty for any work you did.
If the prerequisites knowledge and possession of sewing machine are met, now you have to figure out if your jacket is lined or unlined baffling- and down jackets can have BOTH unlined and lined baffling portions.
The two methods of repair are not interchangeable- so make sure you're SURE!
You can differentiate lined baffling versus unlined baffling by checking the inside of the jacket. If the fabric pulls away from the baffling, this is a lined portion of the jacket. If the baffling looks the same as the outside of the jacket, then this is an unlined portion of the baffling.
If you're trying to repair your Patagonia lined baffle, or most other lined baffles for that matter, here is a link you can visit to get a good idea how to remove liner and access baffles.
If you'd like to go with the easier, faster fix, you can find Tenacious Tape online here.
Have any of your own "On the Fly" repair stories or ideas? We'd love to hear them--share with us in the comments or on any of our social platforms!